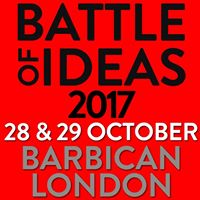 With the case of Alfie Evans in the news, this Battle of Ideas debate is very pertinent.
ORIGINAL INTRODUCTION
The tragic case of Charlie Gard, a baby with a terminal congenital illness whose parents refused to accept the decision of medical staff to withdraw life support, highlighted the problems that may arise when there is a breakdown of trust between doctors and parents. The old adage that 'doctor knows best' is being challenged not just by patients, but from within the medical profession itself, as paternalism gives way to shared decision-making. But can patients know enough to take responsibility for major decisions about treatment? If doctors relinquish authority, does this impose an undue burden on patients. What is the role of the courts?
SPEAKERS
DR FRANKIE ANDERSON
psychiatry trainee; co-founder, Sheffield Salon
SARAH BARCLAY
founder and director, The Medical Mediation Foundation
RAANAN GILLON
emeritus professor of medical ethics, Imperial College London; president, Institute of Medical Ethics
PROFESSOR SIR SIMON WESSELY
regius chair of psychiatry, Institute of Psychiatry, Psychology and Neuroscience, King's College London; president, Royal Society of Medicine